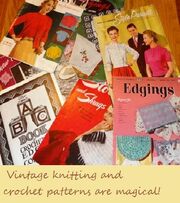 About the Knitting and Crochet Pattern Archive Wiki:
Edit
Welcome to the Knitting and Crochet Pattern Archive! This wiki is intended to be an archive where crafters may browse through decades of treasured knitting and crochet pattern booklets that have gone out of print. Many of us have patterns that have been handed down through generations and would love to share information about them including:
links to sellers who have the pattern booklet in stock
links to pattern information on blogs
reviews of a particular pattern
posts from people searching for a particular pattern
photos of the finished projects from the pattern
When creating a page for your pattern, please do so for only pattern booklets that are out of print, from the 90's or earlier. Edit
Tips for adding a Pattern Booklet Page:
Edit
Out of Print Pattern Booklets only!
Please only add pages for out of print patterns: from the 90's or earlier! You may only use your own photos or scans that you made from the original pattern booklet. Do not use images or photos from a pattern company's website or someone else's photo. They are copyrighted and you may not use them without permission.
Double check before you Duplicate!
With the thousands of publications, we don't want to defeat the purpose of the Knitting and Crochet Pattern Archive by duplicating. Make sure it has not been entered already by doing a search of pattern name or publication number. Example: Annie's Attic 87A93
Vendors Tips on Linking to a Pattern Booklet Page:
Edit
If you have a pattern listed in your store for sale, you may place a link to it under the "Find it Here" on the specific pattern page. Be sure to link directly to the pattern sale page (not to the home page, category or other pages of your store). You may only place a link if you are selling the original paper pattern booklet. You may not list links to PDF files, scanned or photo copies of patterns. They will be removed.
If there is already one or more seller listed for a particular pattern, add your link to the bottom of the list as a common courtesy to your fellow Wiki users.
Once your pattern sells, don't forget to come back and remove the link from the page. The wiki admins will try to keep this cleaned up, but it's a lot of things to check up on. By removing these links, we keep our wiki active and accurate.
Thank you to Vintage Sewing Patterns for providing a guide to our "about" page.